SYMBIOSIS
© Corina Gamma, 2008.
8 minute loop, video/sound installation on three monitors.
Looking through a kaleidoscope transforms my surroundings into the innocent world of a child. It provides the comfort of symmetry and perfect equilibrium. Most of the visual content in this video composite are taken around my neighborhood in Los Angeles, where roosters roam next to the rumbling freeway and wild parrots dangle above busy streets. All these forms of life exist as one organism and become part of a larger symbiosis.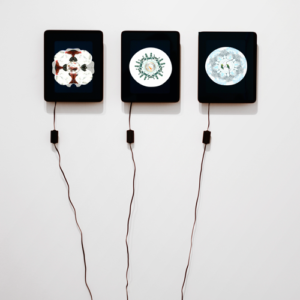 Monitor Installation exhibited at
OVERTONES GALLERY, Los Angeles, CA