Riding the Big Ferris Wheel
© Corina Gamma, 2007.
4 minute video/sound projection
Violin sounds by Lorenz Gamma
The video is a composite of recordings outside of Disneyland near Los Angeles. It projects the state of mind of a temporary happiness, where the thrill of a ferris wheel ride becomes a pacifier and impedes of never achieving fulfillment, never progressing, and never reaching the yearned-for crescendo.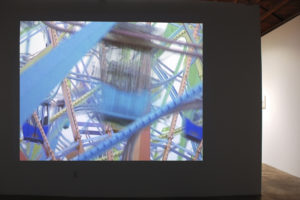 Projection installation at d.e.n. contemporary Gallery, Los Angeles, California